We live in a great community here in Huntsville, Texas. Schools and the school district have a large impact on our kids, their futures and also on us as property owners. It is time to get informed and examine the Huntsville ISD 2021 School Bond.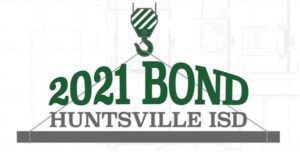 "The Huntsville ISD 2021 School Bond is a result of quality community input and careful weighing of options. The bond package derives from the work of the Long Range Master Plan committee, made up of 79 community leaders, parents, teachers, students, and local business owners representing a cross section of the district. The committee received information from the district administration and industry professionals, taking into consideration future student growth projections and the district's needs for capital projects. The committee's approved master plan was presented to the Huntsville ISD Board of Trustees on August 13, 2020. The Board approved the committee's recommendation and unanimously called for a $127,000,000 bond election at their meeting on Thursday, February 4, 2021." (taken from materials provided by Huntsville ISD)
You can find a wealth of information on the district's website at https://www.huntsville-isd.org/Page/2133 . Find answers to questions like:
What is in the 2021 Bond? How much is it for?
How will passing a bond affect Tax Rates?
How does the tax rate of Huntsville ISD compare to similar districts in the area?
How does the bond affect the current grade alignment?
When and where can I vote?
To gather more information, you may attend one of the informational sessions hosted by Huntsville ISD. Superintendent Dr. Scott Sheppard presents an overview of the 2021 Bond on Monday, March 29, 2021 @ 6:00 PM at Samuel Walker Houston Elementary School Cafeteria and Monday, April 12, 2021 @ 6:00 PM at Mance Park Middle School Cafeteria.